Rizer's sausage biscuits are a great make ahead breakfast, snack, or just a quick 30 minute addition to that perfect 'breakfast for supper' meal.
Ingredients:
1 Cup Buttermilk
2 Cups Self-Rising Flour
Crisco-  a dollop approximately the size of a large egg
1.5 lbs Rizer's loose sausage- mild or hot
Time: 30 minutes   Yield: Approximately 18 sausage biscuits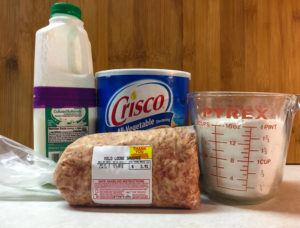 The Biscuits: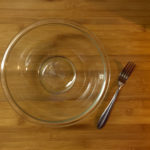 Start off with a medium sized bowl that can contain all of the ingredients (1 cup Buttermilk, 2 cups Self-Rising flour, 1 dollop Crisco)  with wiggle room.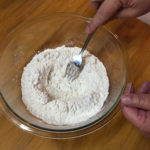 Add 2 cups of Self-Rising flour to the bowl and create a crater in the middle of the flour.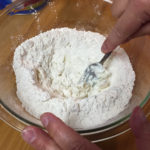 Cut in the Crisco (amount of Crisco is approximately the size of a large egg). Make sure to keep the crater in the center.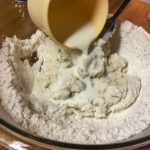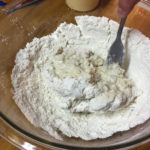 In 1/4 cup increments, add buttermilk to the crater, stirring the milk into the flour/Crisco mixture.
Once you have added all of the buttermilk in and combined, the dough is complete. Set dough onto a well floured surface. Knead dough until soft and form into a ball (this will make it easier to roll or pat out).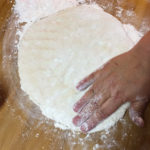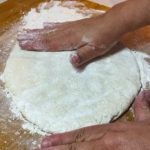 Pat out (or roll, if you prefer) dough to the thickness you would like. For ours, we use approximately a 1/2 inch thickness.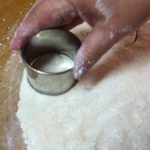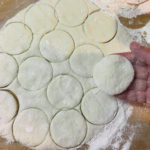 Using a round cookie cutter, cut out dough. (Tip: If you don't have a round cookie cutter, a floured top of a juice cup will work as well.)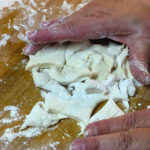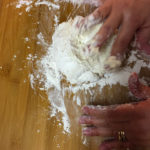 Don't throw away the scraps from your first cut out! Just roll those scraps into another ball, pat out, and continue until you are out of dough.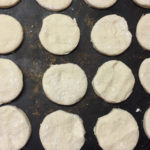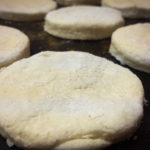 Once you have all of your dough used up and your biscuits are cut out, place them on a baking sheet (butter spray, parchment paper, or baking mats will keep them from adhering)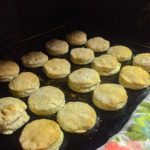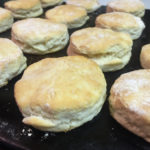 Bake them in the oven for approximately 10 minutes at 450 degrees or until golden brown. Let cool before handling.
The Sausage: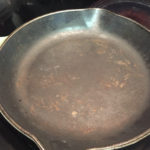 While the biscuits are in the oven, head on over to your stove top and place a frying pan on a burner.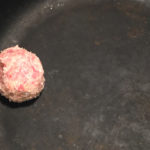 Form Rizer's sausage into small balls and place on frying pan.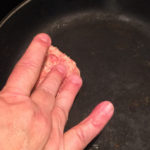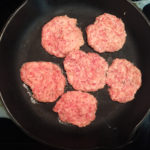 Flatten sausage balls to form patties. Be careful not to over fill the pan with too many pieces. A normal pan will hold about 5 or 6 sausage patties.
Turn frying pan on to Medium/High heat to begin cooking. While the sausage is cooking, be careful! The grease may pop and it will be hot. Use caution.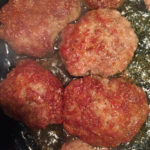 The sausage will need to cook approximately 7 minutes on each side.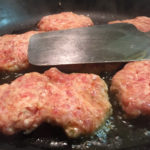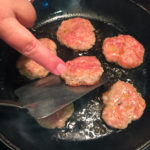 Using a spatula, flip the sausage to cook on the other side. When completely cooked, the sausage should be a crispy brown color.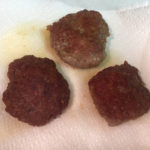 Once the sausage patty has completely cooked, using a spatula, take it from the frying pan and place it on a paper towel to cool. The paper towel will absorb any excess grease from the sausage patty.  
Now that your sausage is cooked, the biscuits are a beautiful golden brown, and everything is cooled enough to handle, let's build those sausage biscuits! 
Grab a biscuit and cut into halves. Place sausage patty in between two biscuit halves, place on plate, and enjoy!