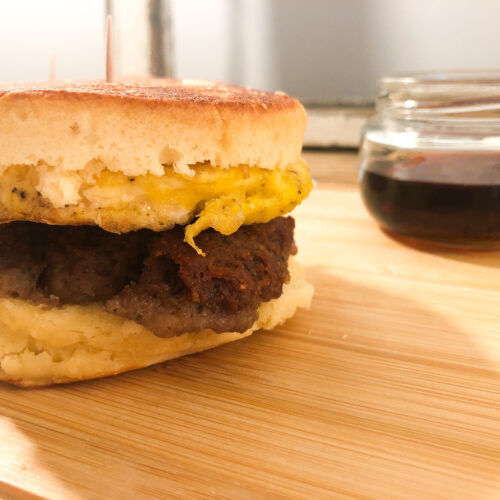 The Ultimate Breakfast Sandwich
A FLUFFY pancake. A sausage patty. A fried scrambled egg. All combined to make the ultimate breakfast sandwich. You're welcome.
Equipment
2 large frying pans

1 (or 4, if available for easy cooking) round metal cookie cutters

1 Bowl
Ingredients
1

lb

Rizer's Mild or Hot Loose Sausage

(we used mild)

5

Large

Eggs

¼

Cup

Melted Butter

1

Tablespoon

Sugar

¼

Cup

Milk or milk substitute

Approx ½ -1

Cup

Self Rising Flour
Instructions
The Sausage
Start by making 4 patties out of the loose sausage and placing them on a frying pan set to med/high. Cook for approximately 7 minutes and then, using a turner, turn the patties over to cook another 7 minutes or until done.

When done, place on a plate with napkins on it to absorb excess grease.
The Eggs
Grease another frying pan and set it on med/high. Place the greased round metal cookie cutter on the pan to begin heating. In a bowl, crack 1 egg, add 1 tsp milk (optional- this makes the eggs fluffy) and whisk until combined. Pour egg into the metal cookie cutter.

Cook the egg until your see the egg begin to completely cook into an 'egg patty'. Once it is almost completely cooked, remove - with tongs- the cookie cutter from the pan. The egg patty should just slide out of the cookie cutter. Flip egg patty over to cook the other side. Repeat process for the other 3 eggs.
The Fluffy Pancakes
In a bowl, combine melted butter, sugar, milk and egg.

Add in self rising flour until the batter is approximately the consistency of a cake batter. It should not be runny, but decently thick. It should take between ½ Cup and 1 Cup of flour to make it the correct consistency.

To the greased frying pan (you can continue to use the same pan you cooked the eggs in), add the greased round metal cookie cutter. The frying pan should still be on med/high from making the egg patties. Pour the pancake batter into the cookie cutter. Once you begin to see bubbles forming at the top of the pancake, remove the cookie cutter using tongs and flip the pancake over. These pancakes will be super fluffy!
Building the ULTIMATE BREAKFAST SANDWICH
Cut the pancake in half and place one half on your plate.

Add Rizer's sausage patty to fit the pancake.

Place the other half of the pancake on top.

Serve with a side of your favorite pancake syrup and enjoy!!