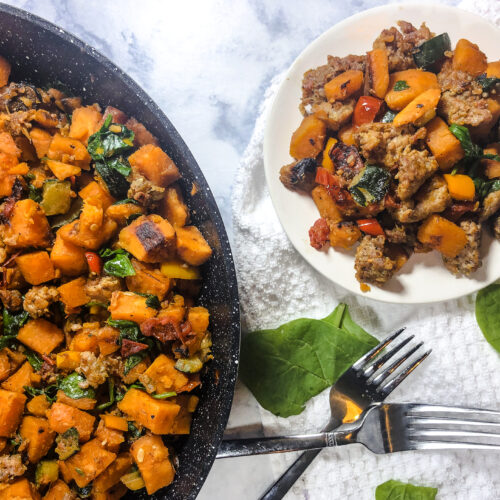 Sausage & Sweet Potato Hash
1 pan. 40 minutes. Endless flavor. Sausage & Sweet Potato Hash is your new favorite all in one meal.
Ingredients
1

lb

Rizer's Mild Loose Sausage

2

Large

Sweet Potatoes- Diced

1

Zucchini- Diced

1

Cup

Spinach

1/4

Cup

Diced Onion

1/3

Cup

Diced Tomatoes

1/3

Cup

Diced Sweet Peppers

1

Tablespoon

Olive Oil

1

Pinch

salt and pepper
Instructions
Cook Rizer's Loose Sausage on med/high for approximately 15 minutes or until done. Once done, drain the grease from the sausage and set sausage aside.

Using the same skillet, add 1 Tablespoon Olive Oil to the pan. Add in onions, peppers, and tomatoes and cook on med/high for about 2 minutes. Stir consistently.

To the pan, add in sweet potatoes and zucchini. Stir to combine. Place lid over pan and cook for 15 minutes, stiring every few minutes so the sweet potatoes don't adhere to the pan.

Once the sweet potatoes and zucchini have cooked for the 15 minutes, stir in sausage and cook for about 2 minutes.

Add in spinach. Stir until spinach is cooked. Add pinch of salt and pepper and stir.