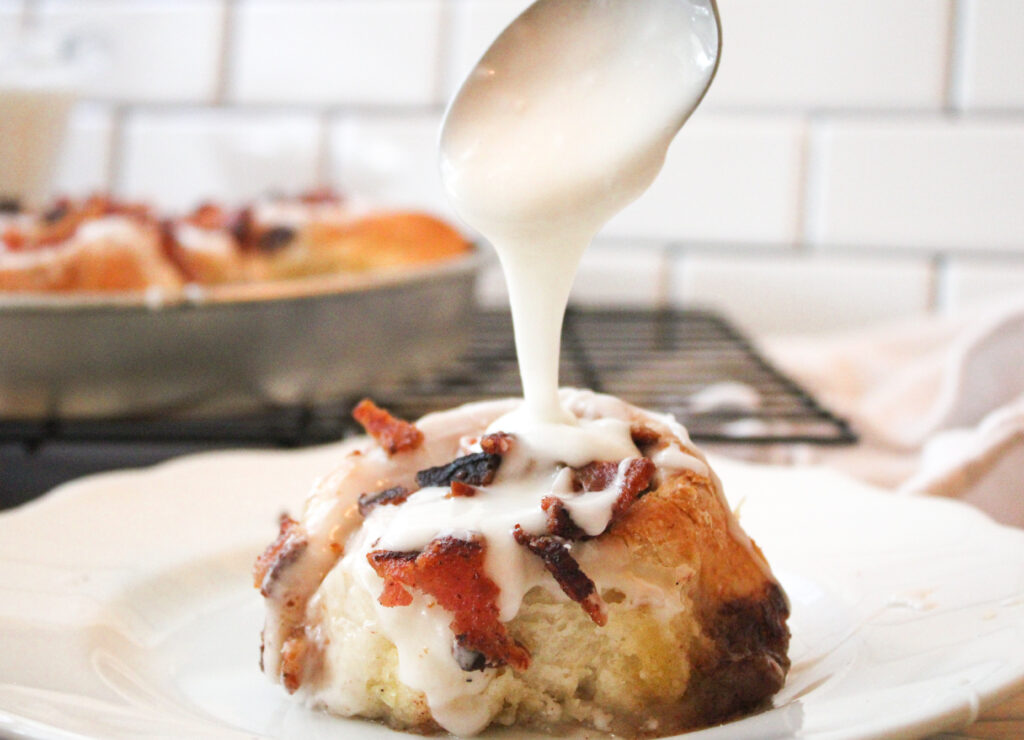 Ah cinnamon rolls. They bring back the nostalgia of being a kid waking to the smell of fresh cinnamon rolls being baked for breakfast. While this isn't your mother's recipe, these bacon cinnamon rolls are everything you didn't know you needed in your life! They're great for dessert or breakfast (or let's be real, a snack) and simply melt in your mouth and burst with flavor. Make and share them with everyone or just enjoy for yourself. Beware though, once you bring these to an event, they'll want you to make them every time!
The bacon cinnamon rolls are best served fresh. However, if you're making a batch for only a few people and have leftovers, simply pop them in the microwave for 15 seconds and they'll be just like the were when they came out of the oven.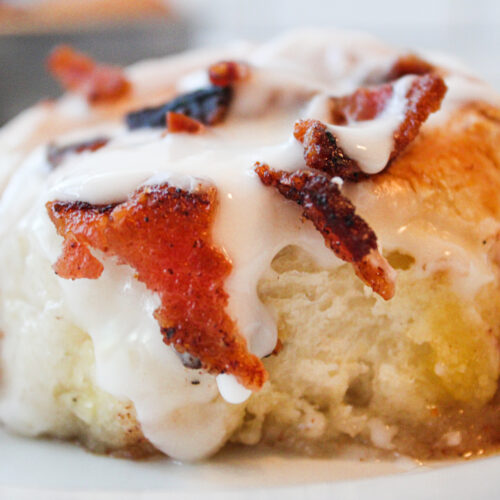 Bacon Cinnamon Rolls
These yummy bacon cinnamon rolls are everything you didn't know you needed in your life! Great for dessert or breakfast.
Ingredients
1

Package

Rizer's Bacon

¼

Cup

Brown Sugar

1

package

Active Dry Yeast

Fleischmann Yeast works best

2

Cups

Whole Milk

1½

Cup

White Sugar

1½

Cups

Butter or Margarine

4½

Cups

All Purpose Flour

(plus extra for flouring surface)

2

tsp

Salt

1

heaping tsp

Baking Powder

2

Tablespoons

Cinnamon

1

Tablespoon

Nutmeg

¼

tsp

Maple Extract

(optional)

1

Lb

Powdered Sugar

5

Tablespoons

Water

(can use milk)
Instructions
Candied Bacon
Take Rizer's Bacon and cut strips in half. Place strips of Rizer's Bacon on a baking pan- preferably one with sides to keep the oven clean!

Cover strips of Rizer's Bacon with a generous amount of brown sugar. Bake at 350°F for approxmiately 15 minutes or until done. Using tongs, remove bacon from pan and place on plate to cool. Once cool, chop into small bits.
Cinnamon Roll Dough
While the bacon is in the oven, now is a great time to start on the dough.

Start by combining 2 cups of warm (NOT HOT) whole milk, 1/2 Cup White Sugar, 1/2 Cup melted butter or margarine and 1 pack of Active Dry Yeast. Whisk together and let sit 2 minutes.

Add 4 cups of all purpose flour to the dough starter (step above) and fold in the flour. Do NOT use a mixer. Fold in the flour. Dough should look like the picture to the right once properly combined. Be sure not to work with the dough too much as you don't want to kill the yeast.

Cover dough with cloth. Place in warm area to rise for approximately 1 hour.

Once the hour is up, the dough should have doubled in size.

Fold in 1/2 Cup All Purpose Flour, 2 tsp salt, and 1 heaping tsp baking powder.

Turn out dough onto well floured surface.

Knead dough until smooth.

Roll out dough about a 1/2 inch thick.
The Filling
To create the filling, mix 1 Cup softened butter or margarine, 2 Tablespoons Cinnamon, 1 Tablespoon nutmeg, and 1 Cup White Sugar. Mix until combined.
Building the Cinnamon Rolls
On the rolled out dough, spread the filling evenly.

Sprinkle Candied Bacon on top of filling.

Roll the dough long ways. It should look kind of like a snake. See picture on website to get an idea.

Cut into 1 inch thick slices and place into well greased baking pan.

Let the rolls rise for about 15 minutes.

Bake at 350°F for approximately 45 minutes or until golden brown. Once done, remove and let cool for 15 approximately minutes.
The Icing
To make the icing, in a bowl, combine 1 lb powdered sugar, water (or milk), and maple extract (optional) and stir. It will take approximately 5 Tablespoons of water but you may need to adjust depending on the exact amount of powdered sugar you use. The icing should be thick but easily pourable- roughly the consistency of ranch dressing.

Pour icing over warm rolls.